Frequently asked questions
Before arrival
What to bring from the food?
In addition to the things you will consume every day, be sure to bring:
1l of milk
1kg of flour
1l of sunflower oil
500g of coffee or tea of your choice
It is advisable to consult with the residency managers in advance about what exactly to bring.
Say NO to plastic bags and disposable plastic on the island of Biševo!
Let's say NO to plastic bags and disposable plastic on the island of Biševo! In order to keep household waste to a minimum, please dispose of all unnecessary packaging, plastic bags and disposable (non-refundable) plastic before arriving on the island.
There is no separate waste collection on the island of Vis. It is up to us to responsibly dispose of discarded items from our household.
Basic principles of the zero waste movement
The Zero waste concept is geared towards living with less garbage. The basic principles are called "5 Rs" and they are: refuse, reduce, reuse, recycle, rot.
The translation into our language gives us the following explanations: REJECT (buy unnecessary things), REDUCE (what you normally use), REUSE (things you already have), RECYCLE (change the purpose of things that have lost their purpose, not just as literal recycling) and TRULI (compost).
Learn more about how to recycle and separate waste on the Sustainability and Social Responsibility Practices page.
Recommended contents of the travel pharmacy
There are no pharmacies on the island, the nearest is in Komiža and it has unusual working hours. In addition to medicines for chronic diseases, you should also take medicines that prevent or alleviate travel problems.
A cure for motion sickness. People who suffer from nausea while driving, most often children, should take the medicine half an hour before setting off.
Painkillers and fever. It is best to take paracetamol, ibuprofen or acetylsalicylic acid in the form of tablets or effervescent tablets.
A probiotic that restores the intestinal flora. It helps in case of digestive problems (diarrhea, vomiting, nausea) that often occur in the summer.
Wound cleanser, sterile compress, bandage and waterproof patch. It is an indispensable "equipment" for the road. For first aid for scratches or minor cuts, the wound should first be thoroughly washed with a wound cleanser (they are also suitable for small children because they do not burn), then it should be protected with a band-aid or gauze, depending on the size of the wound.
Sun allergy medications. They are taken according to the doctor's recommendation, in the dose, time and in the way he determined. People who already have an experience with sun allergies can start taking the medicine a few days before sun exposure, but it is best for them to avoid strong sun completely. There are also over-the-counter allergy medications that you should consult with your pharmacist.
Insect repellents are applied to the skin. If they are for young children, care should be taken to use those that are age-appropriate. In addition to these preparations, it is also useful to protect the premises or spirals that burn and are used outdoors. A very useful and effective natural remedy is citronella essential oil.
Remedies after insect bites are usually in the form of a gel that cools and prevents redness, swelling and itching. They are also used after sunburn (jellyfish, wigs), nettles and sunburn.
Earplugs for water and ear drops for cleaning are necessary for people who have problems with ear blockage after bathing. The earplugs will prevent water from penetrating, and even if it gets into the ear, it is best to rinse it off with ear cleaning drops. However, if ear infections occur, you should see a doctor. Until you go to the doctor, you can only drip nasal drops into your nose to relieve pressure on the ear.
Expenses
Are travel and food costs covered?
Residences are private and funded exclusively by donations.
Travel and food costs are borne by residents (unless otherwise stated).
Accommodation in the association's premises is free of charge.
Residents are expected to pay a donation to participate in the program, which contributes to achieving the goals stated in the Statute of the Association. An example of a grant agreement can be found below on this page.
Tools, accessories and working materials
Resident artists can use the tools found in the house:
several hand saws,
jigsaw,
chainsaw,
circular saw,
electric oscillating grinder,
cordless bit drill,
electric drill,
electric planing,
pliers,
carpenter's protractor,
two clamps,
level,
hammer
Of the garden tools there are:
wheelchair,
rake,
shovel,
a few cramps,
hoe
about twenty construction buckets.
What about the materials I need to work?
New residents are asked to bring all the materials they will work with. Of course, I can use everything that is left to the previous residents (chalk, watercolors, ink, felt-tip pens, tempera, acrylics, papers and wall paints).
The nearest shop with art materials is located in Split.
Arrival on the island
Where is there a public parking lot in the City of Split?
Parking is free at the Maritime Museum and close to the ferry port.
Where is there a public parking lot in the City of Komiža?
In the summer period, the parking space in the "Rogači" parking lot is paid per day.
What in happends case of bad weather?
Ships to Biševo do not sail in bad weather. We will kindly recommend low cost accommodation with one of the private renters in Komiža where you have to wait for the weather to calm down.
I missed the connection to Biševo, which goes on Fridays, what are my options?
In summer there are a large number of dinghies that drive to the Blue Cave or directly to Porat. One of such carriers is Taxi Boat Zdenkica, +385 91 253 3713 (approx. 100kn per person).
In case the Blue Cave is closed due to bad weather, you will need to rent your own boat. This is also the most expensive option (approx. 600-700kn in one direction, depending on the carrier).
Fishermen going in the direction of Biševo will be happy to transfer you with a small monetary compensation.
The last solution is to spend the night in Komiža and catch the Railway (state ferry line 612) at 8:00 in the morning. We recommend Apartments Ksenija.
BIAR is not a travel agency, so we ask you to come to the island on Fridays to avoid unnecessary complications.
How will I get to Biševo (Porat Bay)?
During the summer, the local ferry line runs every morning at 8:00am, and on Fridays there is an additional afternoon line at 3:30pm. During winter the ferry departs every other day.
The ferry stops in three bays: Mezuporat, Salbunara and Porat. It would be ideal to get off the boat at the last stop - Porat.
Once you are leaving Biševo, it is best to plan to catch the local ferry line on Fridays, as it returns to Komiža (island Vis) in the morning. This will make it possible to catch the ferry that departs town of Vis for Split at noon. Be sure to check all timetables as there are four seasonal sailing schedules.
For specific occasions, we can organise accommodation in Komiža or privately run transport to Biševo (boat rental at the expense of the resident).
Life in Residence
Yes.
- And in the rooms?
Yes.
- And on the beach?
No.
Please do not use data-intensive services (high-resolution online video) to save data traffic and provide yourself and other residents with the best possible quality of Internet service.
Where can I buy (homemade) brandy, wine or beer?
Various brandies and red wine can be bought on the island (before buying be sure to consult with the managers of the residence).
White wine is rare, so it is necessary to get it in Komiža.
It is best to buy beer on the mainland (the cheapest option) - in any case, for about twenty kuna you can drink in a cafe on the beach.
What kind of shoes do I need?
Island puppies are definitely not recommended in flip-flops but in sports sandals or light sneakers.
If you plan to work with larger stones, protective footwear with a metal cap is a warm recommendation.
We do not recommend coming to the island only in slippers or flip flops.
What are my responsibilities once I get to the island?
All residents are asked to help with garden maintenance (watering, planting, maintenance, cleaning and water collection) or cleaning macchia and stones around the house.
It is extremely important to cultivate good neighborly relations; say hello to the neighbors when you see them in the garden or on the road, ask them how they are and if they need any help with something.
Before leaving, be sure to sweep the room from sand that will accumulate over time.
What activities can I volunteer for?
Kitchen - daily activities related to household maintenance and food preparation.
Garden - watering and garden maintenance, picking fruits and vegetables.
Cleaning macchia - cutting low vegetation around the house.
Mulching - shredding of organic residues from cleaning.
Collecting stones - cleaning the environment of the house from broken stones that are deposited in yellow cans (full cans are transferred by the organizers).
Maintenance and improvement of living space - painting, cleaning and creative spatial solutions and interventions.
Drywall construction - construction of new and extension of existing stone terraces.
More details about volunteering and volunteer positions on the island of Biševo can be found at this link.
Our house is connected to the electricity grid. To put it simply: we have electricity :)
Water, on the other hand, is something else entirely. The total capacity of the tank is about 38,000 liters, which is enough for smooth operation. The cisterns are fed by rainwater, so it is extremely important to be frugal with water in the dry summer period (in some seasons it does not rain for six months).
Unfortunately, there is still no public sewerage network on the island of Biševo. Used water flows into two separate pits: septic and kitchen. In order for the system to function smoothly, it is very important to adhere to some basic common sense principles when using the kitchen and toilet.
There are an unusual number of cats around the house.
Yes. The cats are quite aggressive and have a tendency to steal food from the table and sneak into all the rooms. For this reason, please do not feed cats around the house (or neighbors' plots).
Public order in the vicinity of the residence
Please refrain from noise that would disturb other neighbors between 22:00 and 06:00 and from 14:00 until 17:00.
Procurement of food and necessities in neighboring Komiža.
Mosquitoes, wasps, hornets and other insects and reptiles.
Each room has a canopy over the bed which is the only effective protection against local mosquitoes. A spray like Autan will make your life easier while chilling on the terrace or beach.
Potential residents should come to terms as soon as possible with the fact that the house is in the wild, and that coexistence with various insects and reptiles such as scorpions, wolf spiders, squirrels, geckos, geckos, etc. is inevitable.
Please do not kill the mentioned animals (except mosquitoes, wasps and hornets) because they are very useful.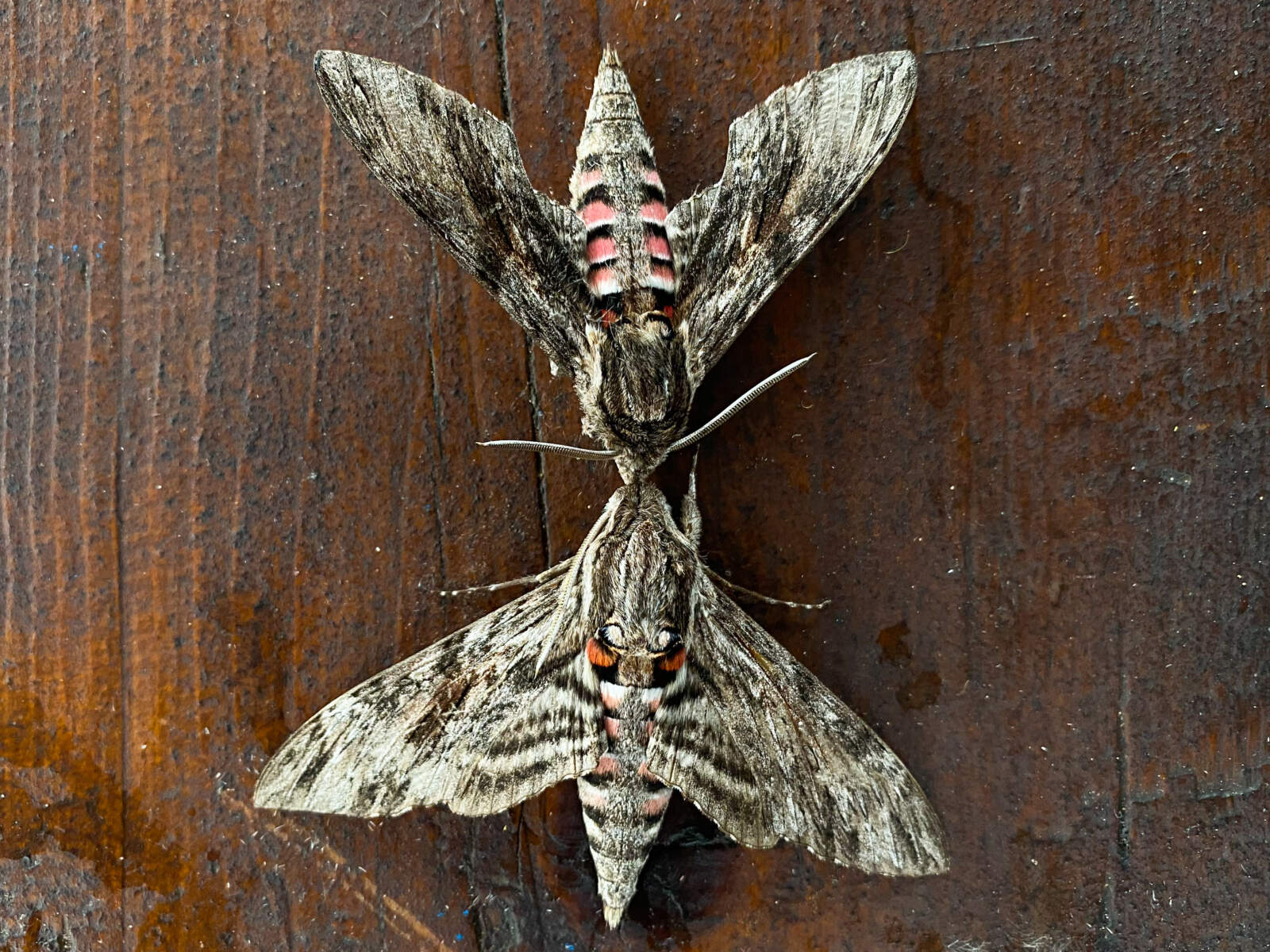 Kitchen drain and toilet are not trash cans :)
Please pay special attention to what you throw in the kitchen drain (definitely not leftover food, coffee grounds, oil, grease, etc.) as it could happen to us that the semi-permeable pit becomes clogged and flooded.
The same is true for the sewer system. The toilet is not a garbage can - tampons, pads, pads, even biodegradable wet wipes need to be thrown in a separate bin (these products contain plastic and do not decompose in nature). Recycled toilet paper is king!
Is it possible to wash clothes?
Laundry can be washed by hand, in a plastic wash bawl or in a washing machine (be sure to bring your own detergent for hand or machine washing).
How to use a public well with cold (brackish) water?
A bucket of water is located in the garden of the house. The well is approx. 4m so we will briefly explain the handling process: 1. Attach the loop at the end of the rope by the hand, 2. Throw the untied rope into the well, turn the bucket upside down and center it relative to the hole so it doesn't hit the well walls, 3. pull the water bucket with water out.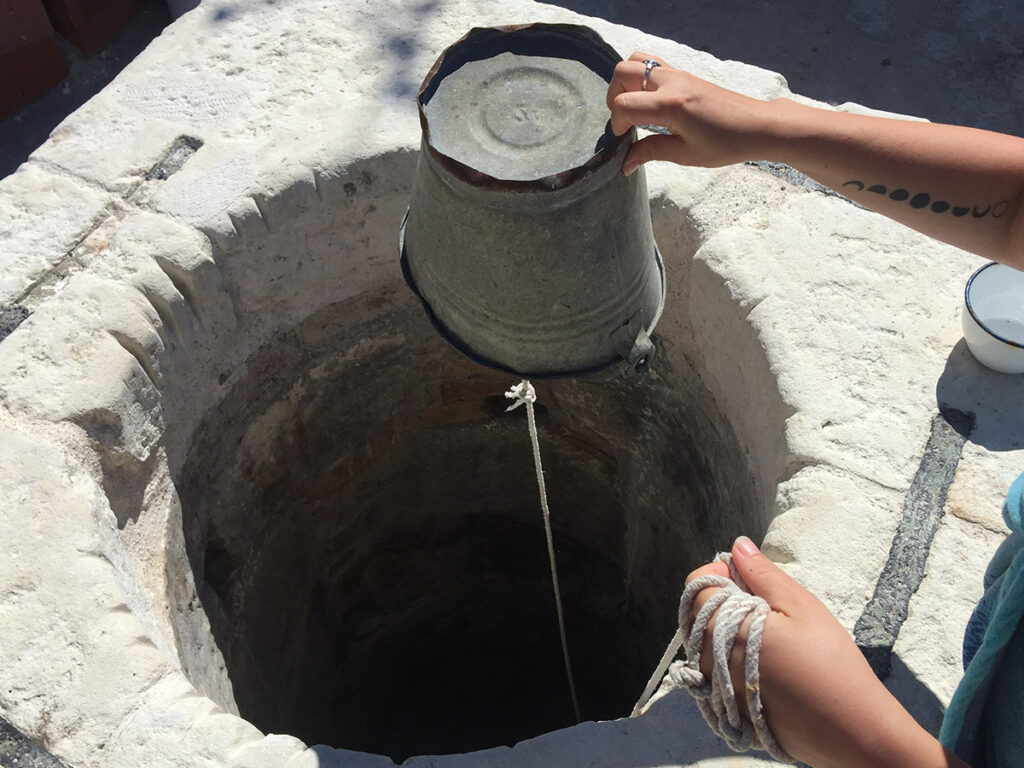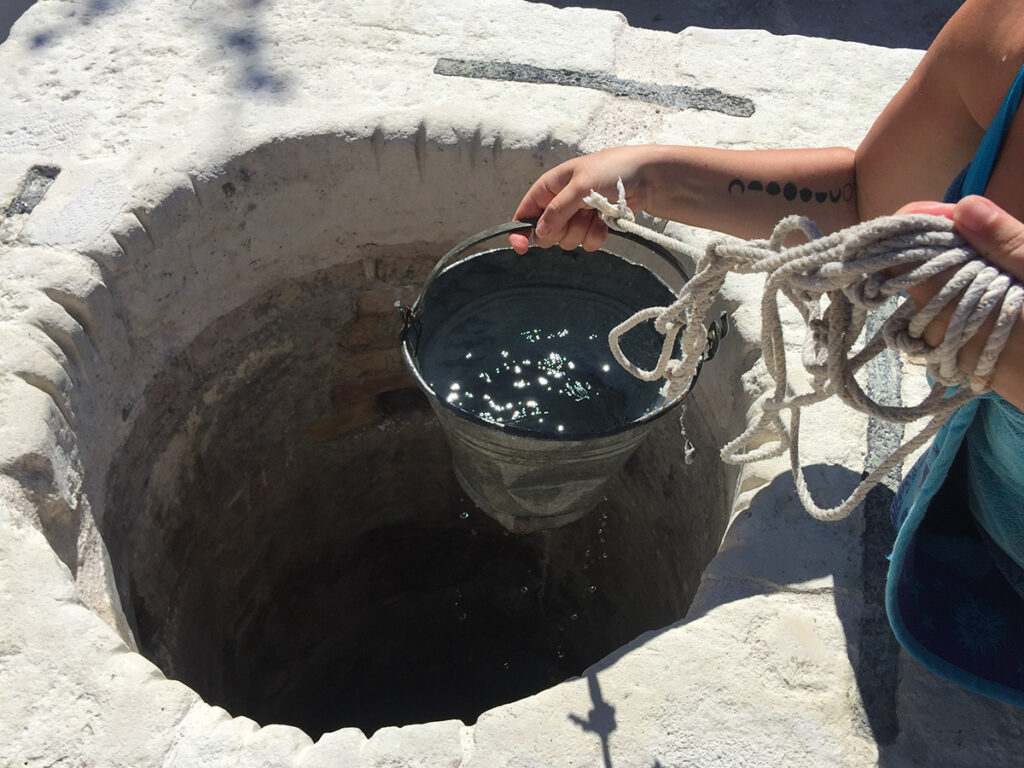 How much food should one bring to the island?
It is recommended that the resident (or group of residents) put together their daily menus for each day of on the island and accordingly make the shopping list and buy food accordingly.
We recommend that resident groups to plan and cook meals together, instead of each resident preparing a meal for themselves.
How equipped is the kitchen?
Dishwasher
Double-leaf refrigerator with freezer
Stove (induction and gas)
Breadmaker
Stick blender
Blender
Great Bialetti Moka Express Coffee Shop
Mehrzer induction pans and pots
Composting, separation of paper and returnable packaging.
Near the house there is a composter. Waste appropriate for composting varies leftovers from preparing various dishes/meals, potato peelings, leftovers from peeled fruits and vegetables, including cooked vegetables, but NOT meat and processed foods. Processed food is not thrown into the composter.
We keep a compost bin in the kitchen. After cutting vegetables or fruits, throw the waste in the bin. When the bin is full, empty it into the composter.
Composting:
leftovers of cooked fruits and vegetables
raw fruits and vegetables
egg shells
animal hair, feathers
charcoal or wood ash
tea bags
ground coffee and filter
newspapers, matte cardboard (uncoated, glossy), paper towels
leaves (brown for carbon and green for nitrogen-rich soil)
mown grass
plant and flower waste
various yard waste
Not for compost:
meat
leftovers of cooked meat and bone dishes
dairy products
animal feces
tobacco
processed food
plastic
substances made by man
metals
Glass and plastic bottles, which fall into the category of deposit refund, are disposed of in separate containers which are then returned to the island of Vis.
Can I take a shower after swimming in the sea?
Due to water shortage during the summer months, we ask you to use a public well with ? water located less than 50 meters from the house.
We have bed linen and towels. Towels take up a lot of space in the bag, preferring to bring more food and / or work materials.
Yes, but with prior notice. Please make sure that the pet does not dig up the planted flowerbeds, does not chase the cats or wanders off to the neighboring plots. If your pet is staying in the house, make sure to thoroughly clean the room before leaving.